Dr. Gerald C. Benjamin, D.D.S. P.C.
General, Esthetic, Restorative and Cosmetic Dentist
Superior credentials set Dr. Benjamin's practice well above the bar in the field of dentistry. It is his individualized, personal attention to the uniqueness of creating a smile for "the whole person" that is equally remarkable. "I am very fussy about my teeth. I want a cosmetic dentist that really cared about my teeth, and what I want" (Ann). Well, she found Dr. Benjamin.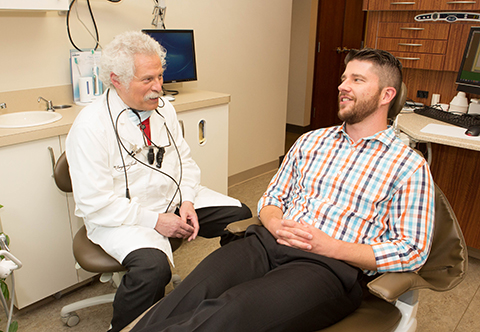 Dr. Benjamin brings tireless devotion to his work, exceptional training, 39 years of experience in restorative and esthetic dentistry and the highest quality service to create extraordinary smiles in the New York Capital District. This level of expertise was once believed only available to the stars of Hollywood and runway models of the fashion industry. "I wanted the best cosmetic dentist, the best educated and experienced, and I found him: Dr. Benjamin. Dr. Benjamin is an artist using his world-class expertise to create my perfect smile. I was shocked how easy it was to get my Hollywood smile" (Margie from Saratoga Springs, New York)
"I wanted the best cosmetic dentist, the best educated and experienced, and I found him: Dr. Benjamin."
As with any true artist or craftsmen, Dr. Benjamin creates to stand the test of time. His work not only reflects the essence of the individual in a great smile, but delivers beauty to last many years.
Aligning with his "whole person" philosophy, Dr. Benjamin believes it takes a "whole team" to achieve the long lasting effects of a great smile. He combines his esthetic dentistry in collaboration with the patient's classic/cosmetic dentistry professionals. Consultation and mutual respect are guiding principles in developing partnerships with a patient's dental practitioner(s). A patient's classic dentist often performs the needed routine procedures such as fillings, dental bridges, caps, etc.; while the cosmetic dentist builds upon healthy teeth to improve their appearance, as with popular whitening procedures. Dr. Benjamin then applies his art and science specialty, with the most comprehensive level of advance cosmetic intervention that can lengthen, shape, lighten and straighten teeth to perfection, leaving teeth looking brand new.
Dr. Benjamin's clinical assistants, Tricia and Jeanine, are among the most knowledgeable assistants in the United States. They offer to patients the benefit of having studied dentistry with a dentist like Dr. Benjamin who has taken 6,000 hours of education and an artistic eye for teeth that is rarely seen in staff members. Their commitment to excellence and loyalty to Dr. Benjamin and their patients is unique in the field of dentistry.