Dentist wins fellowship
Albany Times Union
Date: April 30, 1999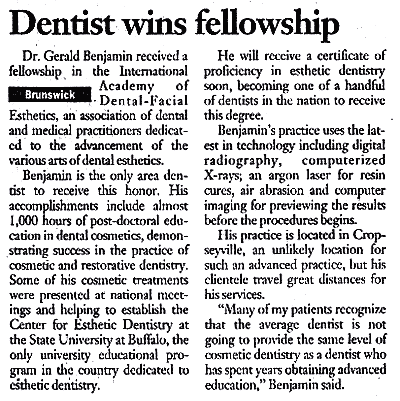 Dr. Gerald Benjamin received a fellowship in the International Academy of Dental-Facial Esthetics, an association of dental and medical practitioners dedicated to the advancement of the various arts of dental esthetics.
Benjamin is the only area dentist to receive this honor. his accomplishments include almost 1,000 hours of post-doctoral education in dental cosmetics, demonstrating success in the practice of cosmetic and restorative dentistry. Some of his cosmetic treatments were presented at national meetings and helping to establish the Center for Esthetic Dentistry at the State University at Buffalo, the only university educational program in the country dedicated to esthetic dentistry.
He will receive a certificate of proficiency in esthetic dentistry soon, becoming one of a handful of dentists in the nation to receive this degree.
Benjamin's practice uses the latest in technology including digital radiography, computerized X-rays; an argon laser for resin cures, air abrasion and computer imaging for previewing the results before the procedures begins.
His practice is located in Cropseyville, an unlikely location for such an advanced practice, but his clientele travel great distances for his services.
"Many of my patients recognize that the average dentist is not going to provide the same level of cosmetic dentistry as a dentist who has spent years obtaining advanced education," Benjamin said.